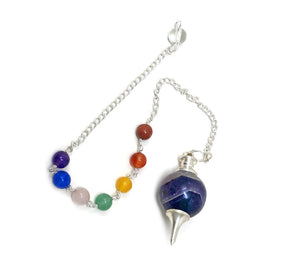 This unique and beautiful pendulum has a facetted Amethyst point and a silver plated chakra chain with 7 different coloured real gemstones, each representing a different Chakra or station in the human's natural energy field or aura. They represent (from the top crystal): the Crown (Spiritual), the Third Eye (Perception), the Throat (Expression), the Heart (Love), The Solar Plexus (Power), the Sacral (Sexuality) and the Root (Survival). The polished Gemstones featured are Garnet, Red Cornelian, Citrine, Peridot, Lolite, Amethyst & Rainbow Moonstone with flash. The pendulum chain is silver plated and comes ready in a Gift Box. You can use this pendulum to check the chakras or energy centres of others. The pendulum is said to give you the location of each chakra and its movement, so that the process of clearing chakras will be much easier. Knowing where your chakra imbalance lies is the first step in being able to treat it, so checking chakras is a wonderful way to help someone start their healing process.
The Gemstone Amethyst is also believed to protect and support and is often recognized as the stone of prosperity.
The Amethyst Pendulum themselves vary in shape, size and colour as they are handmade and a natural product but a typical pendulum is around 2.5cm/0.98" in diameter. The silver plated chain is around 22cm/8.66″ in length.