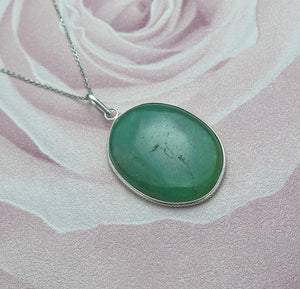 This stunning, high quality pendant is made from solid 925 sterling silver with a hand carved natural Jade stone made into the shape of an oval.


As for symbolism, Jade is a protective stone, Jade keeps the owner from harm and brings harmony. Jade attracts good luck and friendship. It stabilises the personality and promotes self-sufficiency. Soothes the mind, releasing negative thoughts.



Amethyst is also known for its healing powers, which are connected to your head space, and work to sooth your mind of any worries, stress, or tension alleviating headaches and migraines.


Perfect as a special gift for someone you care about or to wear yourself as a means of expressing your individuality and identity. Comes ready in a Gift Box.


Each pendant is made with natural stone therefore are slightly different shapes and sizes making each one unique to its wearer.
Approximate Measurements:

Pendant - 5cm/1.97inches in height x 3cm/1.18inches in width
Solid 925 Sterling Silver Chain length - 45.72cm/18".