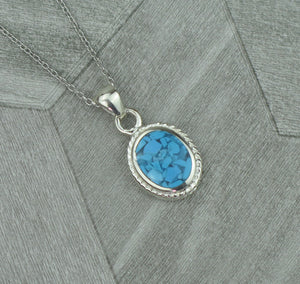 This beautiful Birthstone Pendant has been entirely crafted of 925 Sterling Silver and features the Birthstone in Turquoise Howlite for those born between October 21st and November 20th. Over the centuries leading astrologers have assigned gemstones of certain colours and properties to the twelve months of the year to help people influence the planets in their favour and to bring them luck, love, health and fortune.
This vintage styled pendant is perfect as a special gift for someone you care about or to wear yourself as a means of expressing your individuality and identity.
Each pendant comes ready in a Gift Box.
Pendant: 1.4cm/0.55" x 1.1cm/0.43" Solid 925 Sterling Silver Chain length: 45.7cm/18".