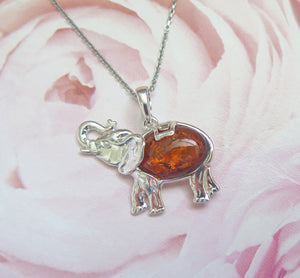 As for symbolism, An upward pointed elephant trunk dispenses energy, luck, prosperity and kindness. It is a movement elephants use to greet friends and express sheer delight, to bring compassion and to shower good fortune around you. Also, According to the Chinese concept of feng shui, elephants represent wisdom, protection, strength, and (you guessed it) good luck! In Hinduism, the elephant is a symbol of Ganesha, the god of luck, fortune, and protection.


Perfect as a special lucky gift for someone you care about or to wear yourself as a means of expressing your individuality and identity. Comes ready in a Gift Box.


Approximate Measurements:
Pendant - 3cm/1.18inches in width x 2cm/0.79inches in height excluding its bail.
Solid 925 Sterling Silver Chain length - 45.7cm/18".