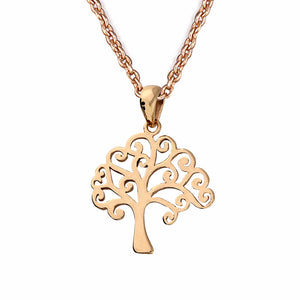 This stunning, high quality pendant is made from solid 925 sterling silver plated in 24k rose gold and made into the shape of a tree of life.


The Tree of Life is an image found throughout the Bible. It represents God's invitation of life, in all it's fullness, to people everywhere. The tree of life symbolises of a fresh start on life, positive energy, good health and a bright future. As a symbol of immortality. A tree grows old, yet it bears seeds that contain its very essence and in this way, the tree becomes immortal. As a symbol of growth and strength.


Perfect as a special celtic gift for someone you care about or to wear yourself as a means of expressing your individuality and identity. Comes ready in a Gift Box.


Approximate Measurements:

Pendant - 1.7cm/0.67inches in width x 1.8cm/0.71inches in height
Solid 925 Sterling Silver 24k Rose Gold Chain length - 45.7cm/18".