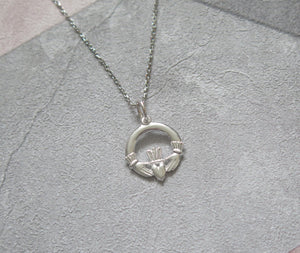 A highly attractive Sterling Silver Pendant, with a design based on the Irish Claddagh. It will delight lovers of all things Irish, and can be worn as a symbol of heritage.


The Claddagh symbol was originally created in Galway, where Claddagh jewellery has been made continuously since at least 1700. Although there are various myths and legends around the origin of the Claddagh ring, it is almost certain that it originated in or close to the small fishing village of Claddagh in Galway.


The meaning of the Claddagh design represents love (heart), loyalty (crown) and friendship (hands) and are traditionally given as gifts to symbolise friendship or love.


The Pendant comes with a Sterling Silver Chain measuring approximately 45.7cm/18", shipped complete in a quality jewellery presentation box.


The Pendant measures approximately 1.5cm/0.59 in diameter.