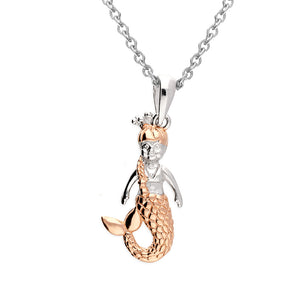 This stunning, high quality pendant is made from solid 925 sterling silver made into the shape of a mermaid with a 24k rose gold plating.


Mermaids embody the sacred feminine: The concept of mermaids was likely influenced by goddesses in Greek Mythology, such as Venus, the goddess of love, and Amphitrite, the goddess of the sea. ... Mermaids symbolize renewal: Since mermaids are tied to a water element, they embody the revitalization that water brings.


Perfect as a special unique gift for someone you care about or to wear yourself as a means of expressing your individuality and identity. Comes ready in a Gift Box.


Approximate Measurements:

Pendant - 1cm/0.39inches in width x 1.9cm/0.75inches in height
Solid 925 Sterling Silver Chain length - 45.7cm/18".