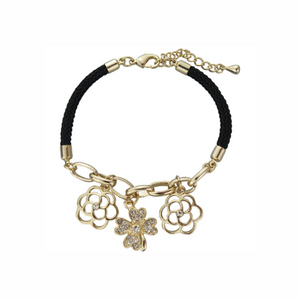 This beautiful gold plated bracelet features a lucky four leaf clover covered in quality Czech diamante crystals in between two attractive gold plated flowers each with a Czech diamante crystal at the centre. The bracelet also features a quality black braided cord.
The Four Leaf Clover is universally recognised as a symbol of good luck ever since the ancient Celts of Europe adopted it. The leaves on a four leaf clover is said to represent Hope, Faith, Love and Luck.
The bracelet is adjustable and measures around 17.5 to 21.5cm in length, the clover is around 1.5cm in diameter and the cord is approximately 0.4cm in diameter and the bracelet comes ready in a Gift Bag.