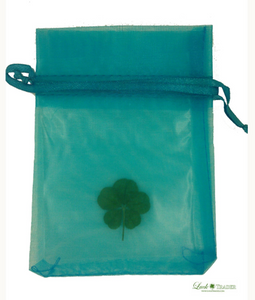 Here is a genuine, hand picked Five Leaf Clover from Trifolium repens more commonly known as the white clover plant. For every one 4 leaf clover you manage to find there is roughly 10,000 more three leaf normal clovers! But for 5 leaf clovers no odds exist of your chance of finding one, they really are that rare!
The Clover leaf varies in size but is approximately 1.5-2.5cm in diameter and is enclosed in transparent cello sleeve after it has gone through a 5 stage process that preserves the natural green colour of the leaf. The five leaf clover can be removed from the sleeve with care. These are an exceptionally rare find and make a very precious good luck gift or a unique addition to any collection of rarities.
Comes in a Gift Box!