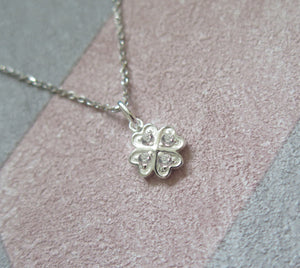 This stunning necklace is made from solid 925 sterling silver made into the shape of a four leaf clover. It features four high quality Cubic Zirconia crystals.


Hundreds of years ago in Ireland, the four-leaf clover became a symbol of luck with the four leaves representing faith, hope, love, and success. According to Irish tradition, those who find a four-leaf clover are destined for good luck, as each leaf in the clover symbolizes good omens for faith, hope, love, and luck for the finder.


Each pendant comes beautifully presented in a gift box, making it the perfect gift for someone you care about, or even as a gift to yourself!


The pendant itself measures approximately 0.9cm/0.35" in diameter excluding its bail and 1.5cm/0.59" height including its bail.


The sterling silver chain measures approximately 45.7cm/18" in length.