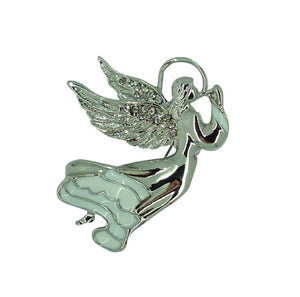 This large stunning Guardian angel pin brooch has it's wings dusted with beautiful czech clear crystals, plated with rhodium and with white coloured detail on the bottom of angel's gown. Guardian angels are said to be angels or spirits that are sent by God to watch over and protect a particular person and feature within the Bible and so are often used as a personal good luck charm. This practice of carrying around a Guardian Angel Amulet dates back to medieval and renaissance periods in Europe.
This beautiful piece of jewellery makes both a perfect gift and your very own Guardian Angel to travel with you.
The Brooch has a lock pin on the back and comes ready in a gift bag.
The brooch is approximately 5 x 5.4cm (2 x 2.12 inches) in size.