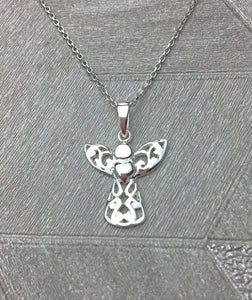 The sterling silver Celtic Guardian Angel Pendant is beautifully crafted in 925 sterling silver.
Angels are divine liaisons. They are messengers with the ability to move freely from the realm of earth-bound matter to the unlimited heavens. They're depicted with human attributes, and so we reason they have human interest at heart. They are gifted with magic and flight; they are creatures of the divine. Every soul has its guardian angel, as well as the companionship of its guide. Our guide comes to us in the companionship of the angel and instil us in feelings of calm and well-being.
Feel the comfort of a Guardian Angel today with this historic Celtic piece dangling from your neckline or show a love one you care by giving him/her a gift of protection.
The Pendant comes with a Sterling Silver Chain measuring 45.7cm/18", shipped complete in a quality jewellery presentation box.
The Pendant measures approximately 1.7cm/0.67" x 1.6cm/0.63".