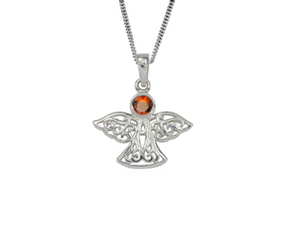 This beautiful Guardian Angel has been entirely crafted of 925 Sterling Silver and features the Birthstone Garnet for those born in January.
Over the centuries leading astrologers have assigned gemstones of certain colours and properties to the twelve months of the year to help people influence the planets in their favour and to bring them luck, love, health and fortune.
The Gemstone Garnet is not only the Birthstone for January but as the stone of passion and courage, it is believed to stimulate devotion to your family, your friends, yourself, and your purpose or goals. Garnet is said to stimulate the senses, and increase your vitality and stamina.
Guardian angels are said to be angels or spirits that are sent by God to watch over and protect a particular person and feature within the Bible and so are often used as a personal good luck charm. This practice of carrying around a Guardian Angel Amulet dates back to medieval and renaissance periods in Europe.
This beautiful piece of Celtic styled jewellery makes both a perfect gift and your very own Guardian Angel to travel with you.
The Pendant comes with a 16″ (40.6cm) Sterling Silver chain, and is delivered complete in a quality black and gold jewellery presentation box.
The pendant is approximately 20.5 x 23mm (0.8 x 0.9 inches) in size.