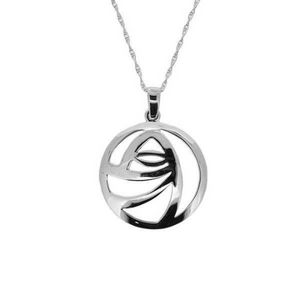 This stunning, high quality pendant is made from solid 925 sterling silver in the distinct Mackintosh style featuring the iconic rose.
In late 19th-century Glasgow an exciting combination of industrial wealth and skills, artistic talent and enlightened patronage produced the climate that fostered a new movement in design and style, with Charles Rennie Mackintosh at its head. Born June 1868, he was a Scottish architect, designer, water colourist and artist. His artistic approach had much in common with European Symbolism. His work, alongside that of his wife Margaret Macdonald, was influential on European design movements such as Art Nouveau and Secessionism.
The 'Glasgow Style' of the late 19th century was an idiosyncratic variation of Art Nouveau and the Arts and Crafts movement.
Mackintosh was an all round designer and his acclaimed willow and rose motifs were used throughout the interiors of one of his best known creations, Miss Cranston's Tea Rooms. He died in 1928 and has now become renowned worldwide for his distinctive repertoire of forms and motifs.
Perfect as a special gift for someone you care about or to wear yourself as a means of expressing your individuality and identity.
Comes ready in a Gift Box.
Pendant: 2.5cm/0.98" x 3.2cm/1.25"
Solid 925 Sterling Silver Adjustable Chain length: 40cm/16"-45.7cm/18".