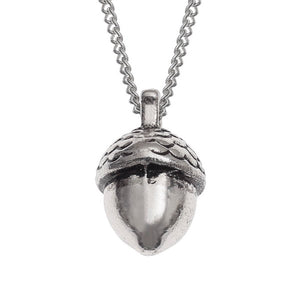 This stunning, high quality pendant is rhodium plated and made into the shape of an acorn.


As for symbolism, the little acorn, with time, can also be the start of a whole forest of mighty oak trees.
Acorns are considered to be a lucky symbol, representing prosperity, youthfulness, power and spiritual growth.


Perfect as a special gift for someone you care about or to wear yourself as a means of expressing your individuality and identity. Comes ready in a Gift Box.


Approximate Measurements:

Pendant - 1cm/0.39inches in width x 1.5cm/0.57inches in overall height
Solid 925 Sterling Silver Chain length - 46cm/18".