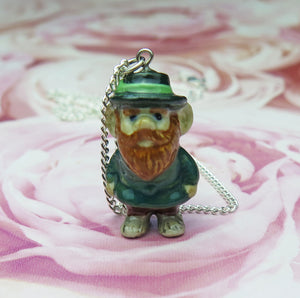 This stunning leprechaun pendant is made from porcelain and is hand painted, then coated in a ceramic glaze.


According to Irish legends, people lucky enough to find a leprechaun and capture him (or, in some stories, steal his magical ring, coin or amulet) can barter his freedom for his treasure. Leprechauns are usually said to be able to grant the person three wishes.


Each pendant comes with a sterling silver plated chain which measures approximately 60.96cm/24" and comes beautifully presented in a gift box.


The leprechaun pendant itself measures approximately 1.8cm/0.71inches in width x 3.2cm/1.26inches in height.


PLEASE NOTE: Each pendant is made from porcelain which is delicate and should be handled with care. It is not advisable for it to be worn when sleeping, bathing or exercising.