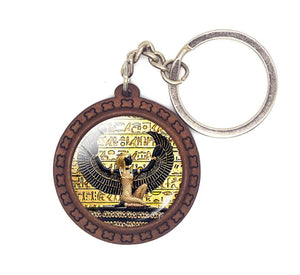 This keychain is made from wood with resin over the design. The design is of the Egyptian Isis.


Isis, revered as the Egyptian goddess of love, healing, fertility, magic, and the moon, held immense significance in ancient Egyptian religious beliefs. Known by various names, including Aset or Eset, she was the most worshipped deity throughout Egyptian culture, even during the Greek rule of ancient Egypt.


Comes ready in a high quality velvet Gift Bag.


Charm measures 3.8cm/1.5" in diameter and the key chain measures 6cm/2.36'' in overall length.