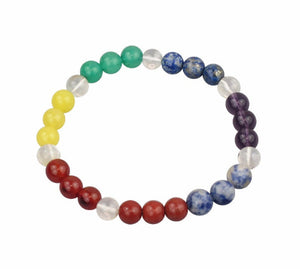 This stunning Power bracelet consists of small spherical crystals gemstones strung together on a piece of elastic thread which can then be worn on the wrist. The qualities of the particular crystal used can influence you as you go about your life. By wearing the bracelet you are inviting the energy of the crystals into your life. It contains 7 different coloured real gemstones, each representing a different Chakra or station in the human's natural energy field or aura. They represent (from the top crystal): the Crown (Spiritual), the Third Eye (Perception), the Throat (Expression), the Heart (Love), The Solar Plexus (Power), the Sacral (Sexuality) and the Root (Survival). The polished Gemstones featured are Red-Jasper Agate, Red Aventurine, Yellow Aventurine, Green Aventurine, Lapis Lazule, Blue Aventurine & Amethyst.
The bracelet comes ready in a velvet gift bag.
The gemstone are around 0.8cm/0.31"and the bracelet is  20cm/7.87" in length, although it is on elastic so fits most wrists.