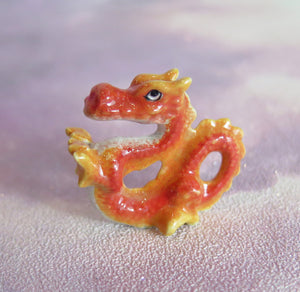 This stunning Chinese dragon mini figure is made from porcelain and is hand painted, then coated in a ceramic glaze.


As for symbolism, the dragon is a symbol of power, strength, and good luck for people who are worthy of it in East Asian culture. The Feng Shui dragon, or Chinese dragon, is very different from the evil, winged, fire-breathing reptiles of Western lore. They are associated with spring rains and water and are symbols of abundant life, strength, fertility, and prosperity.


The figure comes proudly presented in a velvet bag.


The figure itself measures approximately 3cm/1.18inches in width x 2.8cm/1.08inches in height.
PLEASE NOTE: Each figure is made from porcelain which is delicate and should be handled with care.