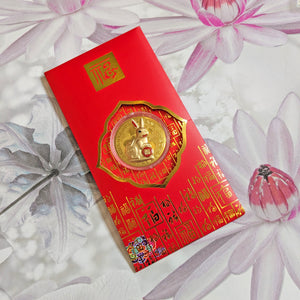 2023 is the Year of the Water Rabbit, which previously occurred in 1963. The Water Rabbit is said to have the ability to turn unfortunate events around, despite their upbringing, per Chinese New Year.


Red envelopes, more commonly known as Hong Bao (in Mandarin) or Lai See (in Cantonese), are gifts presented at social and family gatherings such as weddings or holidays such as Chinese New Year. The red color of the envelope symbolizes good luck and is a symbol to ward off evil spirits.
This special 2023 year of the Rabbit red envelope also includes a commemorative coin in a plastic display case.


The envelope measures approximately 17cm x 8.5cm and the coin measures 4cm in diameter.