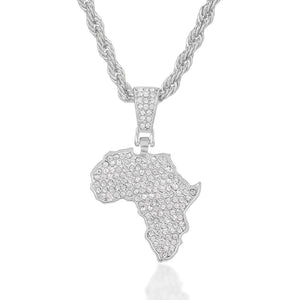 African elegance meets dazzling luxury in this exquisite stainless steel pendant shaped like the African continent. The front of this pendant is adorned with a radiant array of sparkling cubic zirconia crystals, meticulously encrusted to accentuate the contours of the continent. Each crystal represents a gleaming facet of Africa's vibrant diversity and cultural richness, while the golden backdrop adds a touch of opulence. This pendant is a true masterpiece, blending the grace of African heritage with the brilliance of fine craftsmanship, making it a symbol of both pride and refined style for those who wear it.


Each pendant comes in a gift box.


The pendant itself measures approximately 2.5cm/0.98" in width x 3.5cm/1.38".


The necklace measures approximately 48.26cm/19" in length.