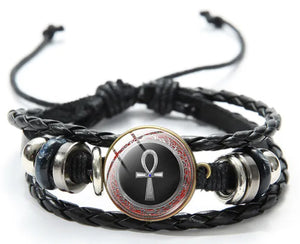 Introducing our Black Leather Men's Bracelet with Ankh Symbol – a bold and meaningful accessory that combines classic style with ancient symbolism. This bracelet features a genuine black leather band with an intricately detailed ankh symbol at its center.

The ankh, an enduring symbol of life and immortality from ancient Egyptian culture, adds a touch of mystique and spirituality to your everyday look. Crafted with meticulous attention to detail, this bracelet is a versatile addition to your wardrobe, making it suitable for casual or more formal occasions. Wear it as a personal statement of strength and renewal or as a reminder of the timeless wisdom of the ankh. Our Black Leather Men's Bracelet with Ankh Symbol is the perfect blend of style and significance, allowing you to express your individuality and connection to ancient traditions effortlessly.

Each bracelet comes complete in a velvet gift bag.

The bracelet itself measures approximately 18cm/7.09" and adjusts to 24cm/9.45".