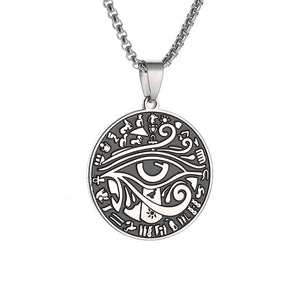 Exquisitely fashioned from stainless steel, this protective pendant boasts a commanding 3cm diameter, making it a distinctive and spiritually significant accessory for those who appreciate both style and deep symbolism.


At the heart of this amulet lies the profound Eye of Horus, intricately etched to capture the essence of an emblem steeped in history. This symbol, revered for its protective, healing, and guiding qualities, is reinvented with a modern twist in durable stainless steel. Its clean lines and corrosion-resistant properties not only pay tribute to the enduring spirit of the ancient Egyptians but also ensure it stands the test of time, much like the cultural legacy it represents.


The pendant measures approximately 3cm/1.18" in diameter, the pendant commands attention with its intricate design. Paired with a 60cm/24" stainless steel chain, it provides a comfortable and versatile fit, allowing you to carry the protective aura of the Eye of Horus close to your heart. Whether worn as a tribute to your heritage or as a symbol of spiritual safeguarding, this amulet serves as a powerful and meaningful addition to your jewelry collection, embodying both ancient wisdom and contemporary style.


Each pendant comes in a gift presentation box.