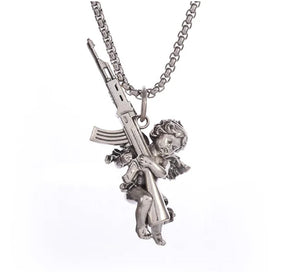 Introducing our Angel of Resilience Men's Pendant – a striking and thought-provoking piece of wearable art. This pendant features a unique juxtaposition of an angelic figure cradling a machine gun, symbolizing the resilience and strength required to face life's battles head-on. Crafted with meticulous attention to detail, it's a thought-provoking accessory that embodies the complex interplay of light and dark within us all. Whether worn as a conversation starter, as a symbol of personal strength, or as a statement of individuality, our Angel of Resilience Pendant challenges convention and invites contemplation, making it a distinctive addition to your style.


Each necklace comes complete in a velvet gift bag.

The pendant itself measures approximately 3cm/1.18" in width x 5cm/1.97" in height.

The chain measures 60cm/24" in length.