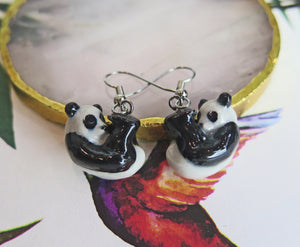 These stunning panda earrings are made from porcelain and are hand painted, then coated in a ceramic glaze.


As for symbolism, Eastern cultures regard Panda as a symbol of peace and luck. When the Panda appears, you may find your entire outlook on life becoming brighter. The panda is a symbol of gentleness and strength. The free-spirited panda bear stands for docility, love, optimism, wisdom, determination, discipline, kindness, abundance, pleasure, scrutiny, steadiness, flexibility, and conservation. As a spiritual guide, it advises you to be less impulsive and be patient till you get the results of your endeavors.


Each pair comes beautifully presented in a gift box.


The panda's themselves measure approximately 2.4cm/0.94inches in width x 1.8cm/0.71inches in height.


PLEASE NOTE: Each pair are made from porcelain which is delicate and should be handled with care. It is not advisable for them to be worn when sleeping, bathing or exercising.