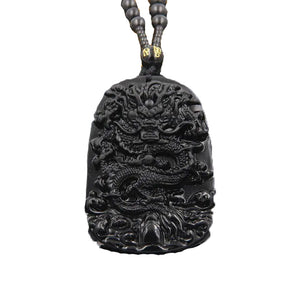 Introducing our Hand-Carved Black Obsidian Dragon Amulet Collection – a fusion of ancient mysticism and natural elegance. Each amulet in this collection is meticulously crafted from authentic black obsidian and features a hand-carved auspicious Chinese dragon, symbolizing power, protection, and good fortune.

Our Black Obsidian Dragon Amulets are more than just jewelry; they are talismans of strength and positive energy. Carved with precision and artistry, the dragon's intricate details come to life against the obsidian's deep black backdrop, creating a mesmerizing contrast. Black obsidian, known for its grounding and protective properties, further enhances the auspicious aura of the dragon. Whether worn for personal empowerment or as a symbol of luck, our amulets are a unique and meaningful addition to your collection, allowing you to carry the timeless wisdom and blessings of the Chinese dragon with you every day.

Each necklace comes complete in a velvet gift bag.

The pendant itself measures approximately 4cm/1.57" in width x 5.7cm/2.24" in height.

The chain measures 64cm/25.2" in length.