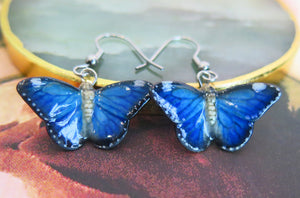 These stunning butterfly earrings are made from porcelain and are hand painted, then coated in a ceramic glaze.


As for symbolism, butterflies are popularly thought to symbolize a person's essence, or soul, either past, present or future. The color blue in a butterfly is often thought to symbolize joy, color or a change in luck. Sometimes a blue butterfly is viewed as a wish granter. Universally the butterfly is symbolic of metamorphosis, rebirth and renewal, beauty and the transitory nature of beauty itself. There are various superstitions around butterflies. However, the most common one is that they are indication of good luck.


Each pair comes beautifully presented in a gift box.


The butterflies themselves measure approximately 2.7cm/1.06inches in width x 1.5cm/0.59inches in height.


PLEASE NOTE: Each pair are made from porcelain which is delicate and should be handled with care. It is not advisable for them to be worn when sleeping, bathing or exercising.