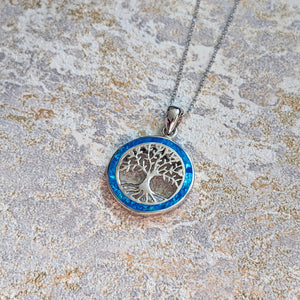 This stunning, high quality pendant is made from solid 925 sterling silver made into the shape of a circle with the Celtic Tree of Life in its centre, featuring a genuine blue opal stone.


Blue Peruvian opal generates soft and soothing energy to reduce tension and clear unnecessary thoughts from the mind. It eases communication and increases confidence. It also encourages ideas to flow more freely. Blue Peruvian opal meaning depicts its potency to decrease the effect of stress on mind, spirit, and body.


A representation of the link between heaven and earth, mind and body and the never-ending cycle of life. The Celts believed that the Tree of Life was a symbol of longevity, wisdom and strength. They even believed that trees were actual ancestors of man and provided a gateway to the spirit world.


Perfect as a special lucky gift for someone you care about or to wear yourself as a means of expressing your individuality and identity. Comes ready in a Gift Box.


Measurements:

Pendant - 2cm/0.79inches in diameter.
Solid 925 Sterling Silver Chain length - 46cm/18".