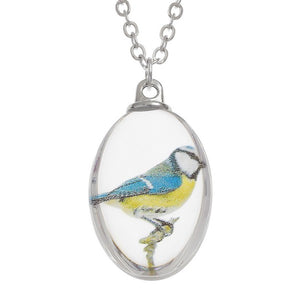 This stunning pendant is made from resin with a blue tit which is double sided so shows up on both sides of the pendant. The metal components of the pendant are rhodium plated.


A Blue Tit represents love and trust. To see a Blue tit fly in the sky is a sign or omen of love on it's way.
The Blue Tit can represent the best things in life. To see a Blue Tit in the sky or to meet one in meditation means that a partnership requires strengthening.


This totem bird is associated with the arrival of a brighter future. It is regarded as a creature of nobility, it also and has a rich and colorful history. The Blue Tit is a symbol of love, faith, hope and honor which are all positive attributes attached to this wonderful creature.


The pendant itself measures approximately 2.5cm height x 2cm width.


Each pendant comes with an 18" rhodium plated chain, and comes beautifully presented in a velvet gift bag.