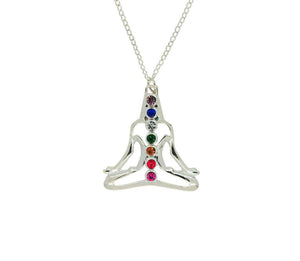 This striking and unique pendant shows the figure of the Thai Buddha meditating. There are 7 different coloured crystals, each representing a different Chakra or station in the human's natural energy field or aura. They represent (from the top crystal): the Crown (Spiritual), the Third Eye (Perception), the Throat (Expression), the Heart (Love), The Solar Plexus (Power), the Sacral (Sexulaity) and the Root (Survival).
Both Pendant and chain are silver plated and come ready in a Gift Bag.
The Buddha itself is 3.9cm in height by 3.8cm (1.53 x 1.49 inches)at it's widest. The chain is 46cm (18.11 inches) in length.