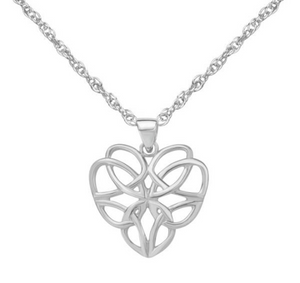 This stunning, high quality love heart pendant is made from solid 925 sterling silver, the love heart is formed by the Traditional Celtic Knotwork.
The Celtic knot symbol, is also referred to as the mystic knot, or the endless knot where there is no defined beginning or end. The spiritual meaning of this symbol refers to beginnings and endings of life or relationships. In this case, this knot represents endless love and can be given or worn as a token of affection.
Perfect as a special celtic gift for someone you care about or to wear yourself as a means of expressing your individuality and identity.
Comes ready in a Gift Box.
Pendant: 2.5cm/0.98" x 2cm/0.78"
Solid 925 Sterling Silver Adjustable Chain length: 40cm/16"-45.7cm/18".