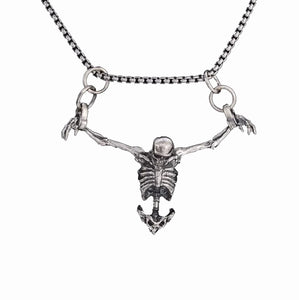 Introducing our Chained Up Skeleton Necklace – a captivating and edgy accessory that adds a touch of Gothic intrigue to your style. This necklace features a meticulously designed skeleton pendant, intricately chained and suspended, creating a hauntingly beautiful piece of jewelry. Crafted with attention to detail, it's a unique fashion statement that exudes a sense of mystery and intrigue. Whether worn as a bold conversation starter or to express your dark and enigmatic side, our Chained Up Skeleton Necklace is sure to turn heads and make a striking addition to your wardrobe.


Each necklace comes complete in a velvet gift bag.

The pendant itself measures approximately 5.5cm/2.17" in width x 4cm/1.57" in height.

The chain measures 60cm/24" in length.