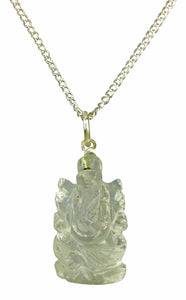 This beautiful Ganesha pendant has been carved in Crystal Quartz. Both Pendant and chain are silver plated and come ready in a Gift Box. Ganesha, recognisable by the elephant's head has existed as a deity since the 4th Century CE, worshipped by Hindu sects, Buddhists and others in India and beyond and is widely revered as the remover of obstacles, the patron of arts and sciences and the deva of intellect and wisdom. As the god of beginnings, he is honoured at the start of rituals and ceremonies. Ganesha is also invoked as patron of letters and learning during writing sessions.

The Gemstone Quartz is also believed to have protective and healing powers and is said to help you think clearly whilst balancing your body.

The Pendants themselves vary in shape and size as they are handmade but a typical pendant is around 3cm/1.18" in height, 2.6cm/1.02" in width, 1.2cm/0.47" depth. The chain is 46cm/18.11" in length.

Comes ready in a velvet gift bag.