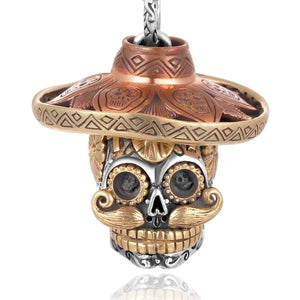 This exquisite piece pays tribute to the vibrant and deeply significant traditions of Dia de los Muertos, a celebration dedicated to honoring the memories of our departed loved ones. It serves as both a striking accessory, showcasing your unique style, and a heartfelt symbol of respect for this culturally cherished observance. The perfect accessory or gift for Halloween!


At its core, our Day of the Dead Pendant Necklace features an intricately designed sugar skull, adorned with vibrant and symbolic details. The top part of the hat is plated in Rose Gold with intricate skull and leaf detailing, the second part is plated in Gold forminf the Sombrero and the final part is in Silver and Gold with stunning features including Flowers and Crosses. This skull acts as a powerful emblem of remembrance, radiating the joyful spirit that characterizes Dia de los Muertos. Elaborate floral motifs, delicate scrolls, and vivid colors breathe life into the pendant, capturing the festive essence of this revered celebration.


Each pendant comes beautifully presented in a velvet gift bag.


The pendant itself measures approximately 3cm/1.18" in height x 3cm/1.18" in width.

The chain measures approximately 60cm/24".