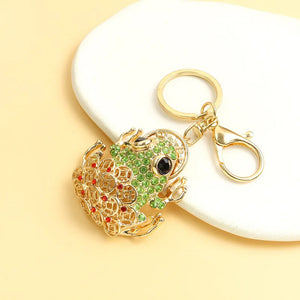 This stunning high quality solid stainless steel keyring is plated in gold, it features a lucky feng shui toad with lucky chinese coins and encrusted in high quality crystals.


In Feng Shui, the toad is believed to bring positive energies, inviting wealth and prosperity into one's life. Crafted with precision and plated in luxurious gold, our pendant is not just a symbol of luck but also a statement of abundance and success. Whether worn for its profound symbolism, as a nod to your appreciation of Feng Shui principles, or simply as a stylish and lucky fashion accessory, this Lucky Feng Shui Toad Pendant Necklace adds a touch of opulence and fortune to your style, seamlessly blending the strength of stainless steel with the timeless allure of gold.


Perfect as a good luck gift or a personal lucky charm.


Comes ready in a Gift Bag.


Charm measures 5cm/1.97" x 5cm/1.97 and the key chain measures 5.5cm/2.17'' in overall length.