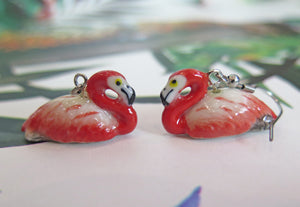 These stunning flamingo earrings are made from porcelain and are hand painted, then coated in a ceramic glaze.


As for symbolism, Flamingos symbolize balance, being open towards others and having an open heart. They also symbolize family, caring for your family, relationships, as well as the importance of belonging to a community or a group. Flamingos also symbolize new experiences and opportunities.


Each pair comes beautifully presented in a gift box.


The flamingo's themselves measure approximately 2.7cm/1.06inches in width x 1.5cm/0.59inches in height.


PLEASE NOTE: Each pair are made from porcelain which is delicate and should be handled with care. It is not advisable for them to be worn when sleeping, bathing or exercising.