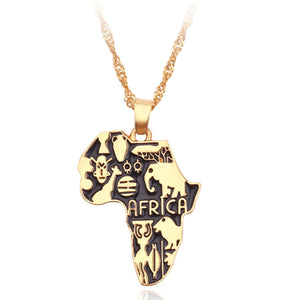 A gold-plated African continent-shaped pendant, resplendent in its intricate detail, showcases the awe-inspiring beauty of the African continent's wildlife on its front. Crafted with meticulous artistry, this pendant captures the essence of Africa's diverse ecosystems, featuring majestic animals like lions, elephants, and giraffes in stunning relief against the golden backdrop. Each element is a testament to the continent's rich natural heritage, while the shimmering gold plating adds an elegant touch. This pendant not only celebrates the magnificence of African wildlife but also serves as a meaningful symbol of pride and connection to the vibrant cultures and untamed landscapes of Africa.


Each pendant comes in a gift box.


The pendant itself measures approximately 2.5cm/0.98" in width x 3.5cm/1.38".


The necklace measures approximately 48.26cm/19" in length.