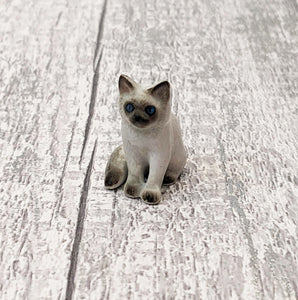 This stunning Ragdoll cat mini figure is made from porcelain and is hand painted, then coated in a ceramic glaze.

The cat symbolizes grace, intelligence, cunning, and independence. The cat is a fascinating animal that cultures around the world have long revered. They are agile and nimble, able to move with silence and stealth. At the same time, they are also fiercely independent, choosing to live on their own terms.

The figure comes proudly presented in a velvet bag.

The figure itself measures approximately 3.5cm/1.38inches in width x 3cm/1.18inches in height.

PLEASE NOTE: Each figure is made from porcelain which is delicate and should be handled with care.