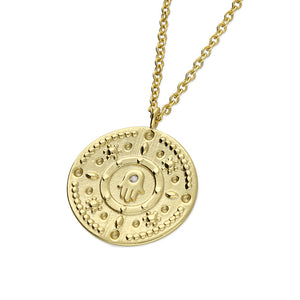 A highly attractive Sterling Silver Pendant, plated in 24k gold with a design based on the Hamsa hand of God.


The Hamsa Hand is an ancient Middle Eastern amulet symbolizing the Hand of God. In all faiths it is a protective sign. It brings its owner happiness, luck, health, and good fortune.


Depicting the open right hand, an image recognized and used as a sign of protection in many times throughout history, the hamsa is believed by some, predominantly Muslims and Jews, to provide defense against the evil eye.


The Hamsa is also variously known as the Hand of Fatima after the daughter of the prophet Muhammad, the Hand of Mary, the Hand of Miriam, and the Hand of the Goddess.


The Pendant comes with a Sterling Silver Gold Plated Chain measuring approximately 53cm/20.87", shipped complete in a quality jewellery presentation gift box.


The Pendant measures approximately 1.6cm/0.63" in diameter.