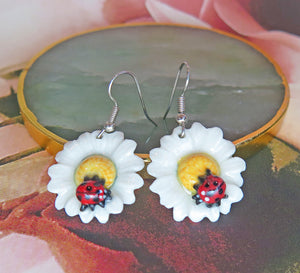 These stunning ladybird daisy flower earrings are made from porcelain and are hand painted, then coated in a ceramic glaze.


As for symbolism, the ladybug symbolizes luck, trust, adaptability, abundance, fulfilled wishes, and even past lives. Many cultures believe ladybugs come bearing luck and well-being. In France, when a ladybird lands on you, your ailments will soon be gone. If you kill it deliberately, you'll curse yourself with sadness and grief. In Belgium, if a ladybug crawls across a lady's hand, she will be married soon.


Each pair comes beautifully presented in a gift box.


The earrings themselves measure approximately 2.5cm/0.98inches in diameter.


PLEASE NOTE: Each pair are made from porcelain which is delicate and should be handled with care. It is not advisable for them to be worn when sleeping, bathing or exercising.