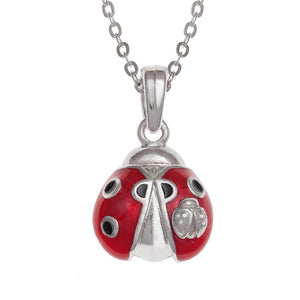 This stunning pendant is rhodium plated and made into the shape of a ladybird with black and red enamel painted onto its body representing its spots with a baby ladybird on its wing.
As for symbolism, the ladybug symbolizes luck, trust, adaptability, abundance, fulfilled wishes, and even past lives. Many cultures believe ladybugs come bearing luck and well-being. In France, when a ladybird lands on you, your ailments will soon be gone. If you kill it deliberately, you'll curse yourself with sadness and grief. In Belgium, if a ladybug crawls across a lady's hand, she will be married soon.
The pendant itself measures approximately 1.5cm/0.59" in width x 1.8cm/0.94" in height.
Each pendant comes with an 46cm/18" rhodium plated chain, and comes beautifully presented in a gift box.