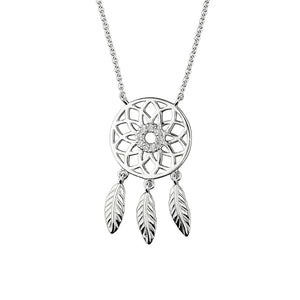 This stunning pendant is made from solid 925 sterling silver and made into the shape of a Dream Catcher with high quality Czech crystals.


The shape of the dreamcatcher is a circle because it represents the circle of life and how forces like the sun and moon travel each day and night across the sky. The dream catcher web catches the bad dreams during the night and dispose of them when the day comes
In some cultures, dream catchers are good luck charms that represent good energy and help to neutralize bad energy — whether you're awake or asleep.


The pendant itself measures approximately 1.6cm/0.63" in width x 3cm/1.18" in height.

Each pendant comes attached to a 45cm/17.72" 925 sterling silver chain, and comes beautifully presented in a gift box.