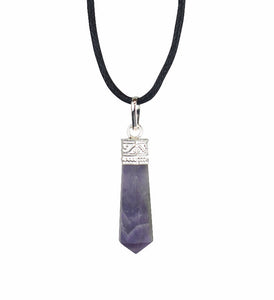 This beautiful pendant is made from Amethyst and can also be used as a pendulum if desired. The Gemstone Amethyst is also believed to protect and support and is often recognized as the stone of prosperity.
The pendant cap is silver plated and comes ready in a velvet gift bag.
The Pendants themselves vary in shape, size and colour as they are handmade and a natural product but a typical pendant is around 4.5cm/1.77" in height, 1cm/0.39" in width, 1cm/0.39" depth. The black cord is around 53cm/20.83" in length.