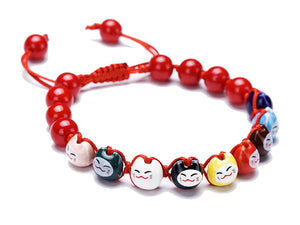 This beautiful and fashionable Red Bracelet features nine ceramic maneki neko lucky cats and red beads on an adjustable red cord bracelet. Maneki Neko translated from Japanese literally means Beckoning Cat. According to Japanese culture the cat beckons wealth, fortune and luck. The Cat also typically holds a Coin called a Koban said to attract wealth.
Ceramic Cat Bead diameter: 0.9cm, Bracelet Diameter (adjustable): 5.5-8.5cm.
Comes Ready in a Gift Bag.