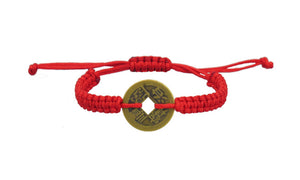 This beautiful bracelet features the famous Chinese coin which since ancient times has been considered to bring Luck, Wealth and Good Fortune on a red braided cord for good luck.
The bracelet is made from red string symbolising Kabbalah. In Kabbalah a red string bracelet is traditional worn on the left wrist to protect against and ward off misfortune brought on by the evil eye or from people who intend you harm. It is a powerful spiritual talisman and popular lucky bracelet that is said to protect and also bring good fortune to it's wearer.
You will often see Kabbalah bracelets worn by high profile individuals and Hollywood Celebrities.
The bracelet is 5cm/1.96" in diameter and adjusts up to 25cm/1.96". The charm measures 2.3cm/0.90" by 2.3cm/0.90" and comes ready in a gift bag.