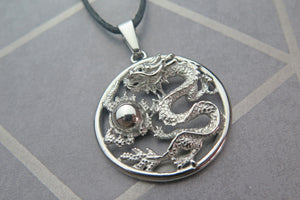 This cool, quality pendant features the chinese lucky dragon! They traditionally symbolize potent and auspicious powers, particularly control over water, rainfall, typhoons, and floods. The dragon is also a symbol of power, strength, and good luck for people who are worthy of it in East Asian culture.
The pendant is made from stainless steel and plated in silver. The pendant measures approximately 4cm in diameter.
The cord is made from silk and is completely adjustable.
Comes Ready in a Gift Bag.