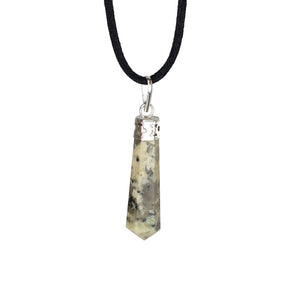 This beautiful pendant is made from Dalmatian Jasper and can also be used as a pendulum if desired. Dalmatian Jasper has the properties of all jasper stones. Jaspers are extremely nurturing and protective stones, protecting against depression and negative thinking. Jaspers are also said to encourage a determination. Dalmatian Jasper is a grounding stone which imparts calm and tranquillity. This stone is also believed to absorb negative energy and environmental stress. In healing Dalmatian Jasper is believed to boost the immune system and to help clear toxins from the body. This stone also supports the body's physical balance and is a great stone for those who engage in the martial arts, tai chi, or chi gung. Its ability to balance yin-yang energy helps one capture the essence of this art for good health and well-being.
The pendant cap is silver plated and comes ready in a velvet gift bag.
The Pendants themselves vary in shape, size and colour as they are handmade and a natural product but a typical pendant is around 4.5cm/1.77" in height, 1cm/0.39" in width, 1cm/0.39" depth. The black cord is around 53cm/20.83" in length.