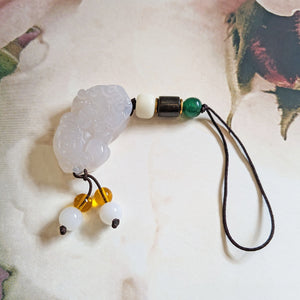 This beautiful phone charm features a beautiful hand carved pixiu made from real icy jade and features an agate bead with ivory fruit charms.


Icy Jade is the result of perfectly fused jade crystals. Jade is a highly valued stone that symbolizes gentleness, serenity, harmony, and balance in feng shui, or the practice of bringing balance to your life and home with energy. Jade has many meanings, including strength, luck, and good health. Jade is also revered for its healing properties balancing the body's processes.



The word Pixiu, interpreted as meaning "fierce beast" and also "brave warrior", was used as a symbol on battle flags and banners. Emperor Wu of the Han dynasty declared that the Pixiu, who obtained and guarded the Master's gold, would be forever known as the "Treasure of the Emperor".


The whole charm is approximately 14cm/5.51" in length, the pixiu charm is around 3.5cm/1.38" x 2cm/0.79".