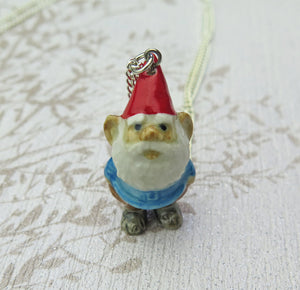 This stunning gnome pendant is made from porcelain and is hand painted, then coated in a ceramic glaze.


As for symbolism, Gnomes are known as symbols of good luck. Originally, gnomes were thought to provide protection, especially of buried treasure and minerals in the ground. They are still used today to watch over crops and livestock, often tucked into the rafters of a barn or placed in the garden.


Each pendant comes with a sterling silver plated chain which measures approximately 60.96cm/24" and comes beautifully presented in a gift box.


The gnome pendant itself measures approximately 3.7cm/1.46inches in width x 1.9cm/0.75inches in height.


PLEASE NOTE: Each pendant is made from porcelain which is delicate and should be handled with care. It is not advisable for it to be worn when sleeping, bathing or exercising.