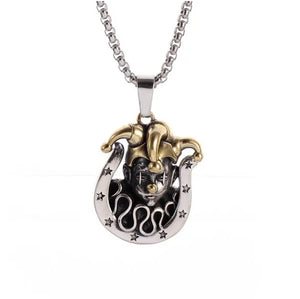 Introducing our Lucky Joker Men's Pendant – a whimsical and unique piece that combines two symbols of good fortune in one captivating design. This pendant features a playful joker clown on a lucky horseshoe, creating a delightful blend of charm and luck. Crafted with meticulous attention to detail, it's a one-of-a-kind accessory that embraces the fun-loving spirit of the joker while harnessing the positive energies associated with the horseshoe. Whether worn for its playful charm, as a talisman for luck, or simply as an attention-grabbing fashion statement, our Lucky Joker Pendant is sure to bring a smile and a touch of fortune to your style.



Each necklace comes complete in a velvet gift bag.

The pendant itself measures approximately 2.2cm/0.87" in width x 2.7cm/1.06" in height.

The chain measures 60cm/24" in length.